7 Ways to Step Into Worthiness will help you: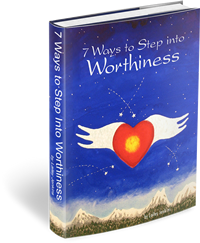 Discover how to deal with a harsh inner critic
Start easy practices that will help you learn to be kind to yourself in the moment
Begin easy steps to craft your resilience
Learn the simple language to use to inoculate to failure.
Master what to do when you are in a 'shame spiral'.
Learn ways to align with your own creative spirit
Enter your name and email and click on the WORTHY button below!
As an added bonus you will also receive a complimentary copy of my monthly e-zine.